Playing chess blindfold may seem impossible to you, if you are new to the world of chess. Instead, know that is entirely possible, and that there are strong players who are blind. Not to mention that there is a specific association for the braille chess, IBCA. I want to give more details about blindfold chess, and start by answering a very direct question.
So, are there blind chess Grandmasters? No, as of today there isn't any chess Grandmaster who is blind from the youth. However, there are several blind (or visually impaired) players with a Elo rating above 2300, and with a IM or FM title. And there are many blind players with a Elo rating above 2200, often classified as National Master level.
I am going to elaborate more on the subject, to answer typical questions that a chess "newbie" can have about blindfold chess as well as some more advanced questions. Keep reading!
Difference between blind and blindfold chess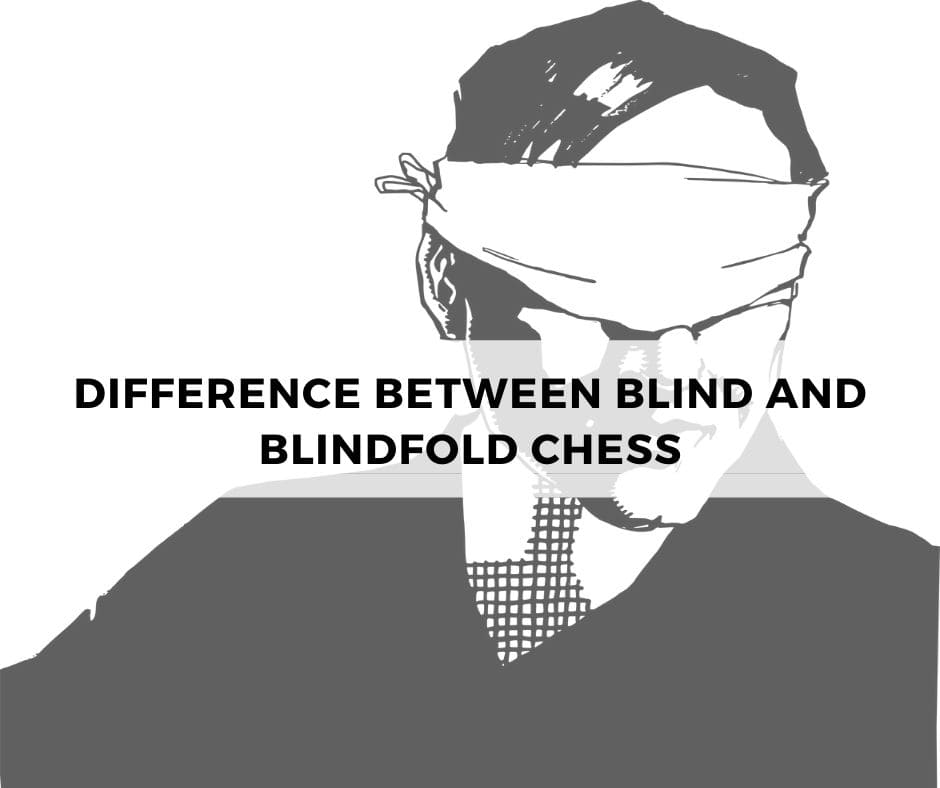 Blind vs blindfold chess is the first subject I want to elaborate more in detail with you. When you read "blind chess", it namely refers to blind people playing chess. Blind or visually impaired, but in any case the term refers to those who play blind chess out of necessity.
In contrast, the term "blindfold chess" more often refers to games played by non-blind people who do NOT look intentionally at the chessboard during the game. This has always happened with a eye-patch in the past, but there are more modern methods today, and I will be speaking about them a bit later.
Before going further, there is one point I want to clarify. Non-blind players, those who learnt chess and improved by looking at the board, can often play blindfold games. And of course many of them are GMs. However, I exclude them from the statistics about blind chess players.
How to play blind chess?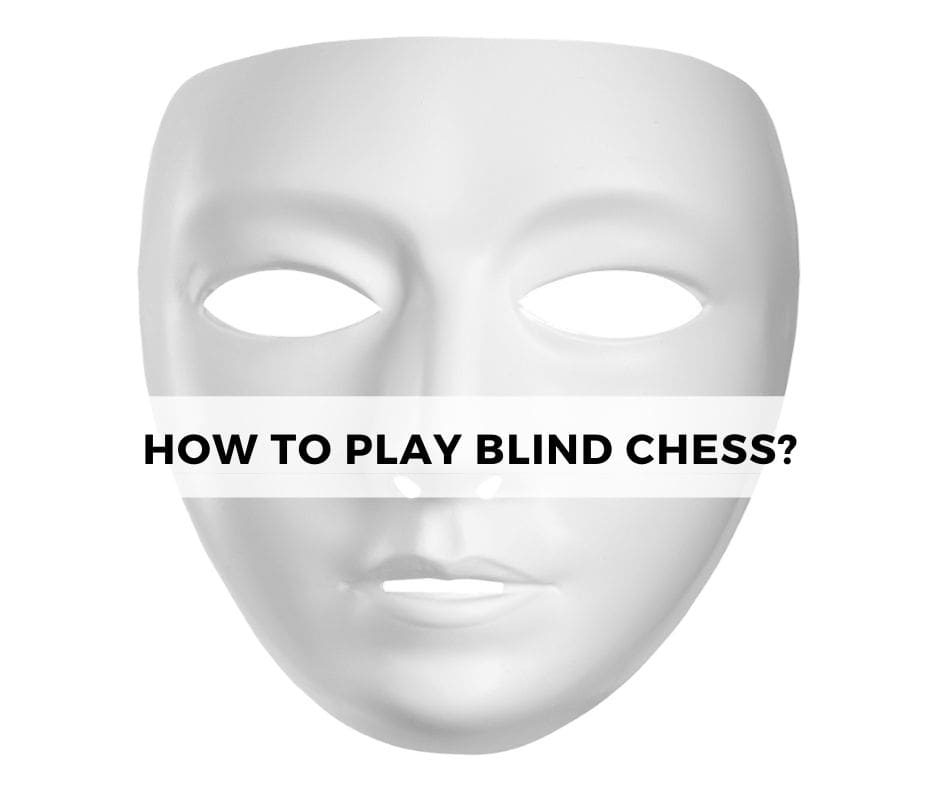 If you have never seen blind chess in action, then you will be surprised by how it works!
Blind players feel pieces with their hands on a smaller board that they can touch and that they keep up-to-date with the current position of the game. Quite clearly, this is their way to keep the position fresh in their mind. Also, when they decide their move on their turn, they spell the move loudly and either the arbiter or even their opponent executes it on the main board.
Furthermore, they write down their moves by poking holes in Braille paper or read them into tape recorders! But the most likely striking feature, for a newcomer, would be that these players are really strong! As I said above, many of them are FMs and IMs.
How to play blindfold chess?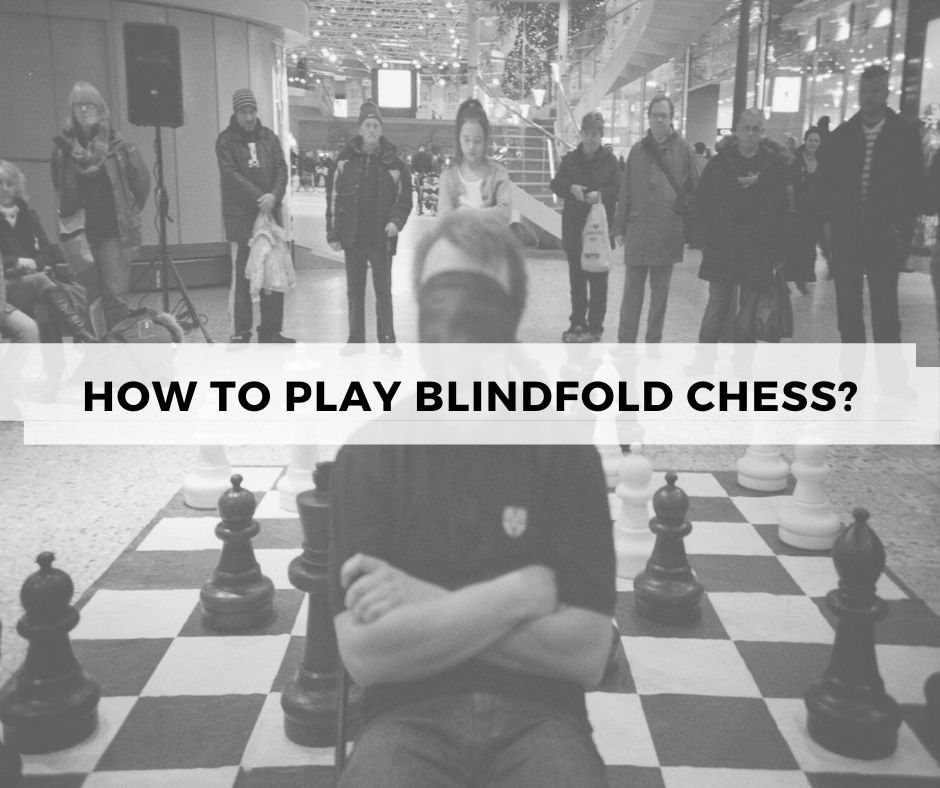 Different situation is when you want to play chess blindfold. Obviously you could use a eye-patch! I remember once I played against a group of friends two blindfold games at the same time (this would be called "simultaneous blindfold") and I simply turned on my chair!
However, given that most of the chess games today are online (by far), eye-patches, tape recorders and braille paper would be a bit cumbersome. Luckily, technology is here to help and a great way to play blindfold chess is to use the smart (online) chessboards that hide the pieces. Basically, you cannot see the pieces, just an empty chessboard. You are told what was your opponent's last move, and you can move by dragging and dropping off a piece even if don't see it.
LiChess, for example, has such a feature and it's really great! To activate that, navigate to the "Preferences" menu, and in the "Game Display" tab, the last option is "Blindfold chess (invisible pieces)". Switch it to "Yes" and try it out, it's really funny! My normal rating in LiChess is about 2300 (blitz, and I always play 5 minutes with no increment), and after a bit playing blindfold it dropped to about 2180!
Are there blind chess competition?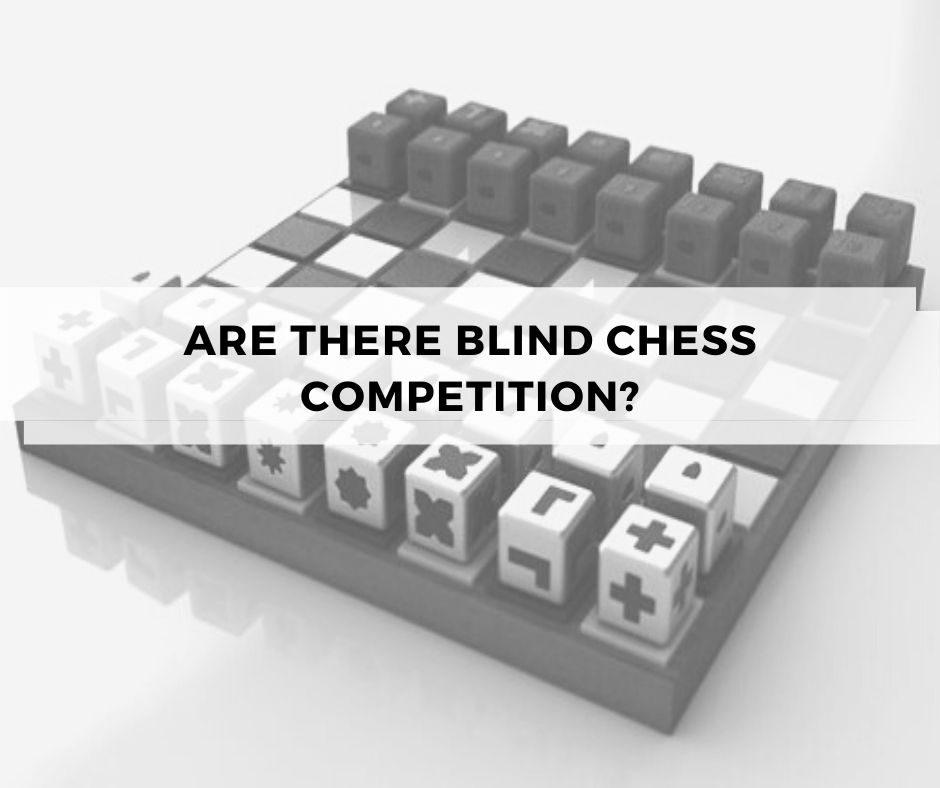 Yes, there are. But before explaining further, let me clarify one point: Visually impaired chess players are perfectly capable to compete in Open Chess Tournaments, where also non-blind players are playing. I explained above how blind players execute their moves and keep track of the notations, and after a bit of research online it seems like a decent estimate of the "loss" caused by playing blindfold is about 200 Elo points. However, my take on this is that it's virtually impossible to estimate such a loss in Elo points, so I would rather not take a random guess!
Now, back to blind chess competition. There exists an international association called IBCA (International Braille Chess Association) that creates and regulates chess competitions for visually impaired players. There are tournaments of all kinds, from Open Tournaments to Chess Olympiads. IBCA does not provide a different rating system though, which in my opinion is a very wise choice, since most visually impaired players have very good classic Elo rating, despite the impediment.
In the IBCA website you can also find the section "Tournament reports" with more details about the major tournament they have organized in the past.
What are the blindfold chess exhibitions?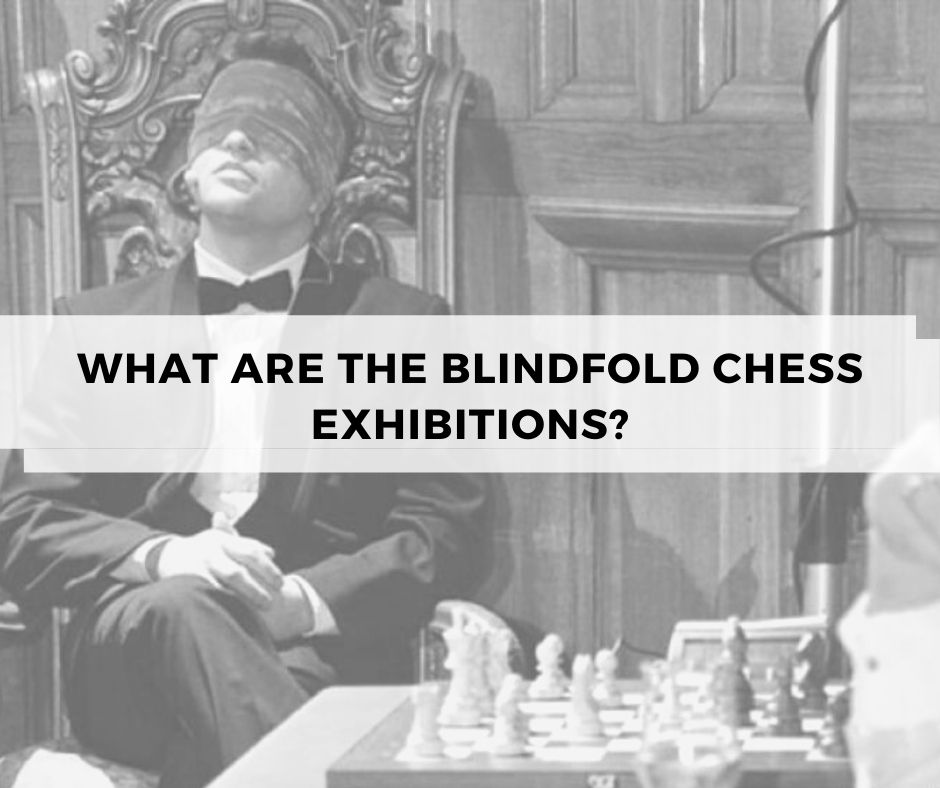 The most famous blindfold chess exhibitions are without doubts the simultaneous blindfold chess exhibitions. There, one person plays blindfold multiple games at the same time, against different opponents. If you know what a "normal" simultaneous chess exhibition is, then this is the same just that the player who "gives" the simultaneous does not look at any of the chessboard.
Just to make one point clear: all games are played at the same time. It's not like one game starts and then when it's over the next one starts. This would arguably be much easier. But in simultaneous exhibitions all games are undergoing at the same time, so the blindfolded player must really make a big effort to recall each and every position in her or his head. Honestly speaking, I find it very very impressive!
There's also been some sort of challenge on this over the years, about the player who could sustain the larger number of games in a blindfold exhibition. The current "world record" belongs to GM Timur Gareyev, who played 48 blindfold games simultaneously, winning 35, drawing 7 and loosing 6. Amazing! Funny side: Timur was riding an exercise bike for the entire time! He claims that this helps somewhat the brain under stress.
To make one more point clear: Gareyev is not a visually impaired player, he just plays blindfold exhibitions for the sake of the challenge and the spectacle (I guess). Having scored more than 80% in his exhibition he has achieved a Guinness World Record!
A famous exhibition tournament in the blindfold area was the Amber Rapid and Blindfold Chess Tournament. It was an invitation-only tournament were a few top-GMs played each other in rapid and blindfold games, with a combined score to determine the winner. Just to give a few names, so that you and I can agree on the strength of the field, Vladimir Kramnik won the blindfold portion 6 times, whereas Vishy Anand won the rapid 9 times. And Ivanchuk played all of the 20 editions of the tournament.
The Amber Melody (as it was unofficially called) has been held for 20 editions, from 1992 to 2011, almost always in Monte Carlo.
Can a chess Grandmaster play blind chess?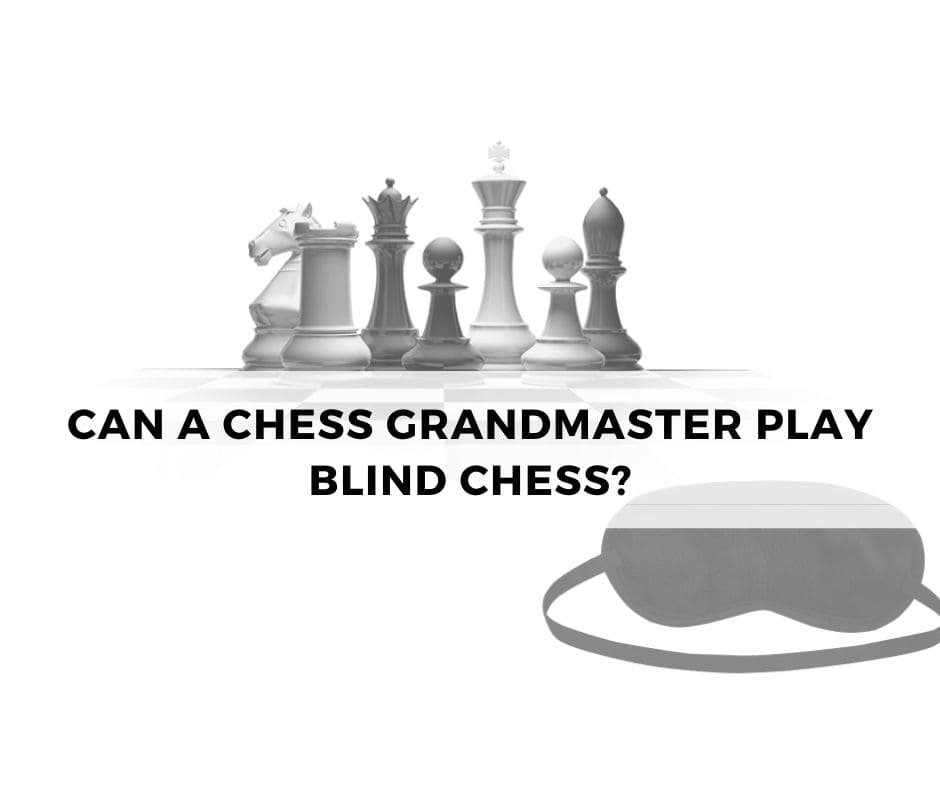 I wanted to add this section just to make sure my message was clear. The answer is a strong YES, of course chess Grandmasters can play blindfold chess. Actually, they are incredibly good at it. Top-GMs can play a blindfold chess game more or less at the same level of a classic game. Sure, occasional blunder happens, but I'd say they are not statistically significant.
I remember watching the Amber Melody tournament, in its final years so 2010-2011, and comparing GM moves with the engine choices. Impressive! I didn't really notice any drop in the level of play on the GMs side.
Conclusions
Blind(fold) chess is fascinating in my opinion. It is spectacular to watch, great to train and fun to play at the same time. There would be so much more to say, but in this article I just wanted to touch on the subject. Stay tuned because more posts about it are likely to follow!
Have fun!