25 days after the first move of the 2023 FIDE World Cup was played, two players sat opposite each other. The tension must have been palpable, as each was on the brink of a monumental personal achievement. Praggnanandhaa could become the youngest, lowest-seeded, and first Indian player in history to win the World Cup, and Carlsen might finally attain the only title that had thus far eluded him in his illustrious career.
The first game…
The Indian grandmaster, whose published rating crossed 2700 for the first time during the event, opted for an Italian Game with an early 5.a4 in the first rapid tiebreak game. His opening choice and preparation received praise from commentators, and it was his more experienced opponent who had unpleasant problems to solve out of the opening.
However, Praggnanandhaa lost his time advantage as he spent close to seven minutes moving his own king to h1, and it was speculated that he had missed Black's defensive 17…Qf6. Psychologically, it is difficult to accept that one's promising winning chances have dissipated, and in a rapid game there's little time to process such a turn of events.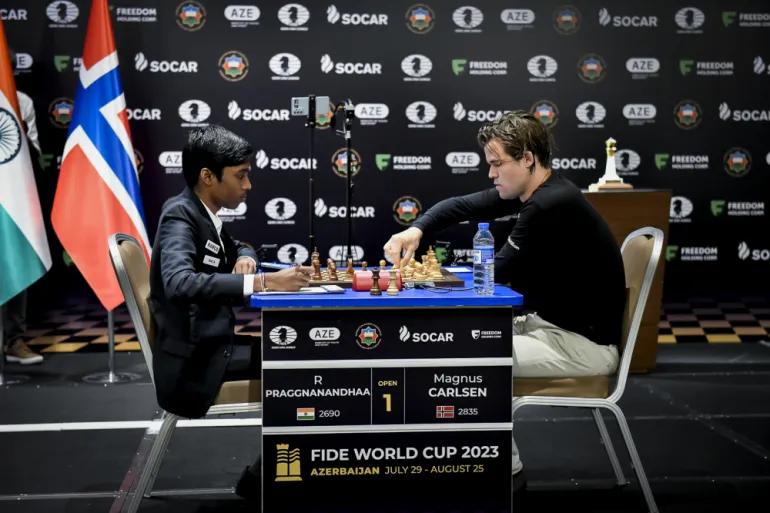 The 18-year-old did a remarkable job of staying level-headed, and in the complex endgame that followed, the silicon machine took turns awarding microscopic advantages to each player, and no single predicted outcome was clear. But soon "blitz mode" was reached, where a 10-second increment likely feels like nothing when the World Cup victory is at stake.
Carlsen seized the opportunity presented in the endgame. His rook and knights invaded, and India's second-ever player to qualify for the Candidates faced the prospect of going down a piece or getting mated. He chose a third option: he resigned.
The second game, Carlsen needs a draw to be the world champion!
On the second game,Praggnanandhaa was Facing a well-prepared Alapin player which is the worst nightmare of anyone in a must-win situation with the black pieces. Unfortunately for Praggnanandhaa that was his reality in the second game. It was a good opening choice by Carlsen, who played 6.Bc4 instead of the 6.dxc4 employed by GM Arjun Erigaisi is his own match against Praggnanandhaa.
Throughout the game, White was the only one with winning chances, and as Carlsen advanced his pawn to d5, the match was as much as over. A few moves later, a draw offer was accepted and the historic win was cemented.
Conclusion
GM Magnus Carlsen can now say that he has won every significant classical chess title that he's set his sights on. The five-time world champion won his first World Cup crown by defeating GM Praggnanandhaa Rameshbabu 1.5-0.5 in the rapid tiebreaks of the 2023 FIDE World Cup for a match victory of 2.5-1.5. In the third-place playoffs, GM Fabiano Caruana convincingly defeated GM Nijat Abasov in both rapid tiebreaks for a 3-1 victory and third place.
It was a heartbreaking defeat for the Indian youngster, who had the initiative in the first game until Carlsen fought back and won in a tense endgame. In the second game, the world number-one allowed no chances, and Praggnanandhaa's impressive World Cup run came to an end as hundreds of thousands of fans watched the tense battle.