In 5th July 2022, The candidate tournament concluded with Ian winning the tournament having a score of 9.5 out of 14. in this tournament Ian proved that he is the best challenger currently in the field defeating many strong top players in the world. he hasn't lost a single round winning and drawing his games keeping everything under control. In this article we are going to discuss how did Ian Nepomniachtchi won the candidates 2022.
Ian Nepomiachtchi strategy in the candidates:
In this tournament, Ian used a very practical and effective strategy, he kept every single game under control with the draw in sight in every round. He mainly focused on making it very very difficult for his opponents to win and for him to lose. After analyzing all his games, we notice that he employed his main opening having very deep preparation for each line. It was a surprise that he played the Petroff defense with black as his main weapon against 1-e4 after he got humiliated against Carlsen using it!
The opening played showed consistency in Ian choices, he and his team did a fantastic job preparing for this event. In every game, he reached a balanced position where he has always equal chances. Now let's break down the games that he played quickly and briefly.
Ian Nepomiachtchi games in the candidates
In the First round ,Ian faced the Chinese champion Ding Liren. Ian surprised the whole tournament winning his first round with black against an English opening!. The English opening starts with 1-c4 and known for having equal chances and sound strategical concepts that makes it very hard for black to win. yet it is not too aggressive opening, so it doesn't give white too much as well!
Ian was able to create a quick attack against white king that is usually extremely safe in the English opening. After 25 moves, Ian position was almost winning controlling the center and having a huge kingside attack as shown here.
Ding followed greedily with 26-Nxb7?? ignoring how dangerous black attack is. Ian followed with gxh opening up the white king and after 27-Nc5 going back with the king, Ding missed the brilliant h3!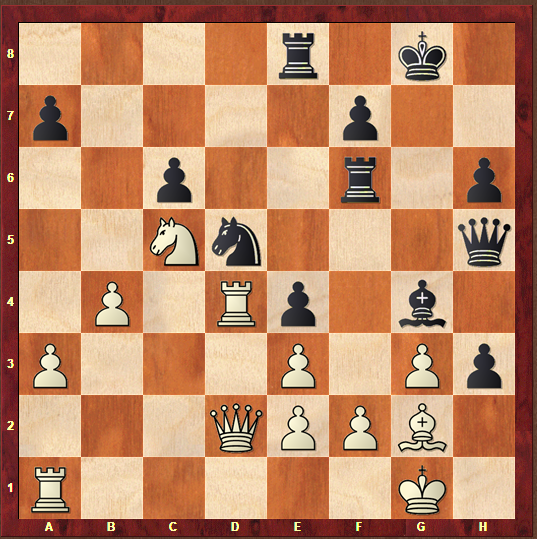 White here in deep trouble. The problem is , black is almost forcing the exchange of light square bishops which would expose the white king as it is the main defender of the castled white king. after few inaccuracies in crucial moments. Ding Liren resigned as he was getting checkmated in 32 moves only!
In the second and third rounds , Ian played steadily, keeping his cool, not taking unnecessary risks and keeping every single round under control. this shows that the Russian GM trained very well to control his feelings after the collapse that he suffered against Carlsen in the last world championship
In the fourth round, It was Ian vs Alireza Firouzja. Firouzja is a brilliant prodigy. he is the youngest ever to pass the 2800 rating barrier. this young player who was born in Iran and currently has the French Citizenship is a rising star in the chess world. Magnus Carlsen once complained that the world championship match is getting boring for him and he is losing motivation, he would only be motivated to play if the brilliant Firouzja would be his challenger!!
in this round Ian with white played aggressively with opposite side castling. Alireza Firouzja couldn't handle this attack and made a terrible blunder trying to trick Ian into the defense. Ian kept his cool and took the material offered by Firouzja and simply won the game making it look so easy!! he then converted his advantage into a kingside attack which resulted in a checkmate for Alireza Firouzja!
after this round it was obvious that Ian is the leader of this tournament and everyone is trying to catch up with him.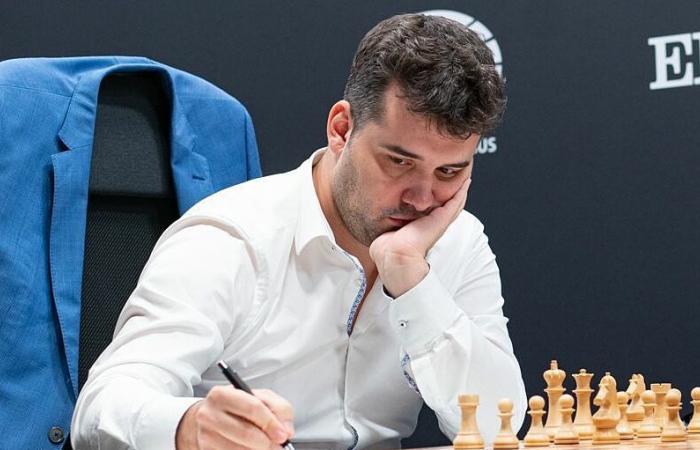 In the fifth round, Ian made a tiny error in the middle game against Hikaru Nakamura. However, he defended very well and was able to save the game holding the draw!
In the sixth round, Ian shocked everyone destroying the Polish champion Duda and keeping a clear lead of more than a point versus everyone!
The next rounds Ian showed a superiority in his match strategy. with everyone risking to win, he kept his cool and punished them for these risks!
Ian ended the event with a lead of a point and half which is a historical record!
Will Carlsen defend his title vs Ian?
Carlsen mentioned more than one time that he is not motivated to defend his title. The fide gave Carlsen till late of July to decide!, in case of Carlsen not playing the event, the Fide will hold a world championship match between Ian and the second winner of the Candidates the Chinese champ Ding Liren.
The whole chess world is hoping for a rematch between Carlsen and Ian. We expect a much better performance from Ian this time as he got the confidence qualifying twice . In addition to this, Ian is a very aggressive player who takes calculated risks only. it would be very interesting to see how Carlsen will handle this again.
Conclusion
we would like to end the article with a game of the candidates for Ian, where he showed extreme superiority in strategy against the rising star Alireza in round 10 with the black pieces. Ali tried to create a random attack exposing his own king, Ian slowly punished Alireza converting his advantage into a win!
Here is a link to the game: