In Almaty, Kazakhstan , Magnus Carlsen captures both the rapid and blitz world championship title for 2022 ahead of 170 chess top grandmasters of the world. In this article we are going to check how did magnus Carlsen win both titles and why is he superior over all other super grandmasters and arguably the strongest chess player of all times!
Carlsen has now been the dominant player in World Rapids for more than a decade, showing an impressively high quality of chess at a fast time limit. Rapid is 15 minutes per player for the entire game, plus a 10 seconds per move increment, while Blitz is three minutes per player per game, plus a two seconds per move increment.
This is the third time in less than a decade that Carlsen has won both highly competitive speed crowns, following his earlier doubles in 2014 and 2019. No other player has ever won both titles in the same year!
What happened at the rapid and blitz games ?
Everything went smoothly for Carlsen in Rapid, but his first 12 rounds (of 21) in the World Blitz on Thursday were contrastingly incident-prone. He went skiing in the morning, got stuck in traffic on the way to the tournament hall, and was absent at the scheduled time for round one.
The organizers delayed the start, and his opponent was slow to start the clock, but when Carlsen finally appeared and sprinted across the hall to his board there were only 30 seconds remaining of his three minutes.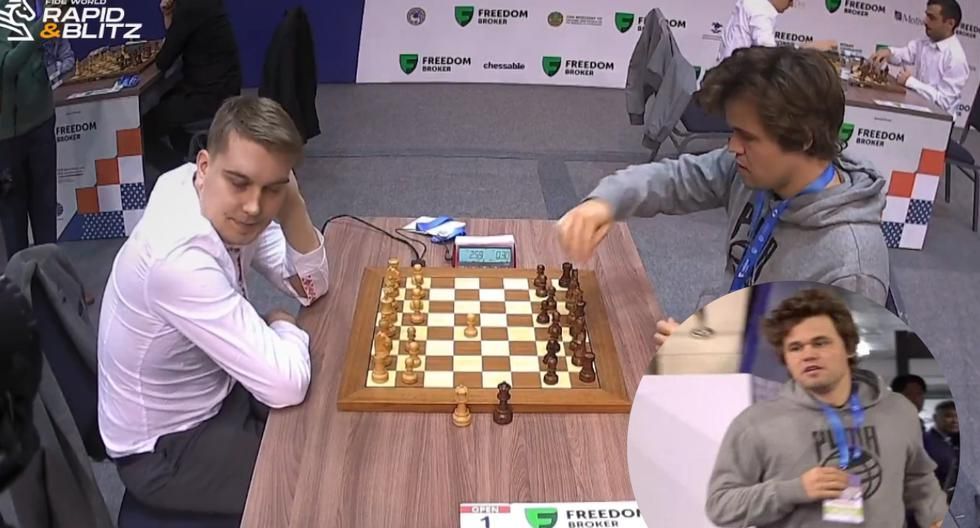 Magnus Carlsen managed to win the game starting with 30 seconds on the clock against full 3 minutes on his opponent clock!!
It was effectively hyper bullet for the Norwegian, but, playing most of his 59 moves instantly, he still managed to win with nine seconds to spare. With no time to change clothes, he then received a warning for breaking Fide's dress code.
Several players complained of excessive heat in the tournament hall, and Carlsen was reported as saying after his sixth round game "I am completely fried". He began with 6.5/7, then drew his final five Blitz games, several of them without much fight, to leave himself a point behind his old rival Nakamura who scored an unbeaten 10/12 on the first day on Thursday.
The final nine rounds on Friday were chaotic as Carlsen and Nakamura suffered defeats and were caught by the chasing pack. Carlsen's round-14 win against Richard Rapport was one of the wildest games in chess history, described as a "bar brawl" where everything was so messed up over the board. Both players missed many chances and the game ended up with Carlsen winning the game!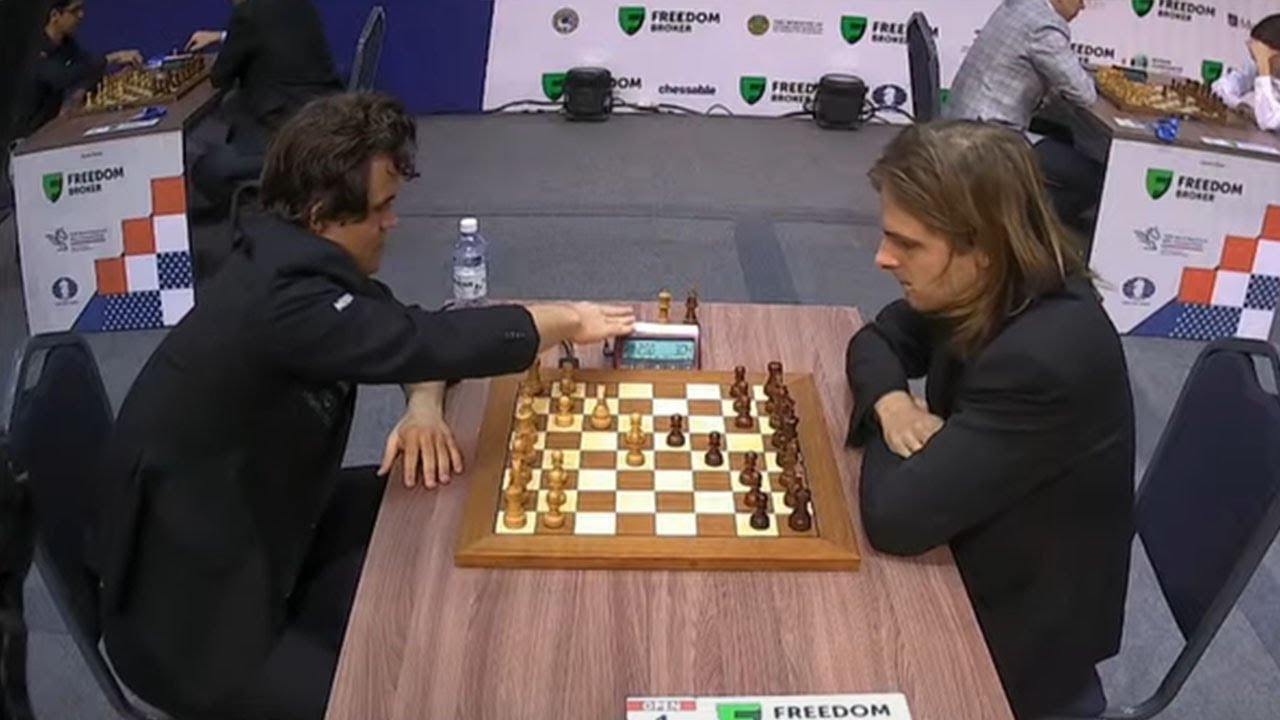 For the blitz championship , GM Magnus Carlsen earned the 2022 FIDE World Blitz Championship title on Friday with a score of 16/21, one point ahead of his rival GM Hikaru Nakamura !
What did Carlsen say about winning both the world champion rapid and blitz titles ?
Magnus Carlsen said that he is very happy winning both titles, He gave up the Classical world champion title and he would have felt unhappy if he has ended 2022 without any world champion title !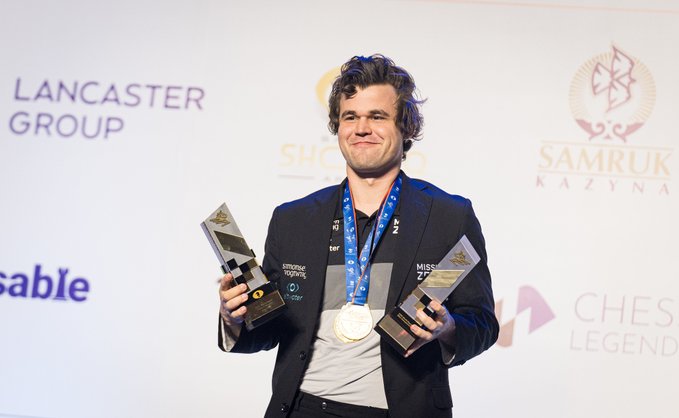 He then tweeted the following : "Gonna need more hands soon," Carlsen had posted on Twitter with a video of himself counting his 15 world titles. "It feels great," he said in a press release as quoted by the CNN after winning two world championship titles in three days.
"This is a really tough event. It started great yesterday but I wasn't feeling I had a lot of energy… Yesterday I was trying to survive until day two and see if I had some chance… Today I felt a little bit better than yesterday and I tried to win as many games as I could," he had added.
"To some extent, the Blitz title is very important because it's [won in a tournament with] more rounds… As far as the classical championship, I won it but it wasn't dear enough to hold on to,"
Conclusion
We would like to mention that No other player has ever won both the Rapid and Blitz titles in the same year, Carlsen is an absolute phenomena.
Despite being 32 years old, he still plays an amazing chess. His calculations and chess skill is absolutely amazing!
So far, Carlsen showed that his chess strength and experience outweigh all the energetic plays of other young talents and rising stars, despite losing a game vs GM Nodirbek Abdusattorov. He still manages to win the title and managed to defeat GM Nodirbek Abdusattorov in the final round of the blitz championship!
We hope to keep seeing amazing chess and maybe in 2023 Carlsen would repeat his win of both the rapid and blitz world championships titles!