Paul Morphy: A Legend in the World of Chess
Chess is a game that has been played for centuries, with grandmasters emerging from all over the world to demonstrate their mastery of the game. One such grandmaster who rose to prominence in the 19th century was Paul Morphy, an American chess player who is widely regarded as one of the greatest chess players of all time. Born on June 22, 1837, in New Orleans, Louisiana, Morphy's talent for the game of chess was evident from a very young age.
Morphy learned to play chess at the age of just six years old and soon developed a reputation as a prodigy in the local chess community. As he grew older, his skills only improved, and he quickly established himself as one of the best chess players in the United States. His exceptional chess talent soon gained the attention of chess enthusiasts across the country, and in 1857, he set out on a journey to Europe to test his skills against the best players in the world.
It was during his travels in Europe that Morphy truly made his mark on the world of chess. He took part in several high-profile matches against some of the strongest players of the time, including Howard Staunton, Lionel Kieseritzky, and Adolf Anderssen, among others. Morphy's mastery of the game was evident in these matches, and he quickly established himself as one of the top players in Europe.
One of Morphy's most memorable achievements was his match against the Duke of Brunswick and Count Isouard, which took place in 1858. In this match, Morphy played against both opponents simultaneously and still managed to secure a victory. This stunning performance is often considered one of the greatest achievements in the history of chess and is still remembered by chess enthusiasts all over the world.
Another memorable match for Morphy was his 1858 match against Adolf Anderssen, which was widely regarded as the world championship of its time. Morphy's mastery of the game was once again on full display, and he emerged victorious against one of the strongest players of his era. This victory solidified Morphy's position as one of the top chess players in the world and earned him widespread recognition and admiration.
Chess Style :
Morphy chess style was absolutely unique for his time. It is widely considered as a century ahead of all other grandmasters of the 18th century. He popularized a core concept of modern chess, which is activity is much more important than material gains. Morphy would sacrifice a pawn or two to make sure that all his pieces are fully active and that he is ahead in development.
Paul Morphy was a true legend in the world of chess. His incredible talent and mastery of the game made him one of the greatest players of all time and his achievements continue to inspire chess enthusiasts and grandmasters alike to this day. In 2023, The current world champion Magnus Carlsen atteneded the Tata steel tournament having the same hair style as paul morphy !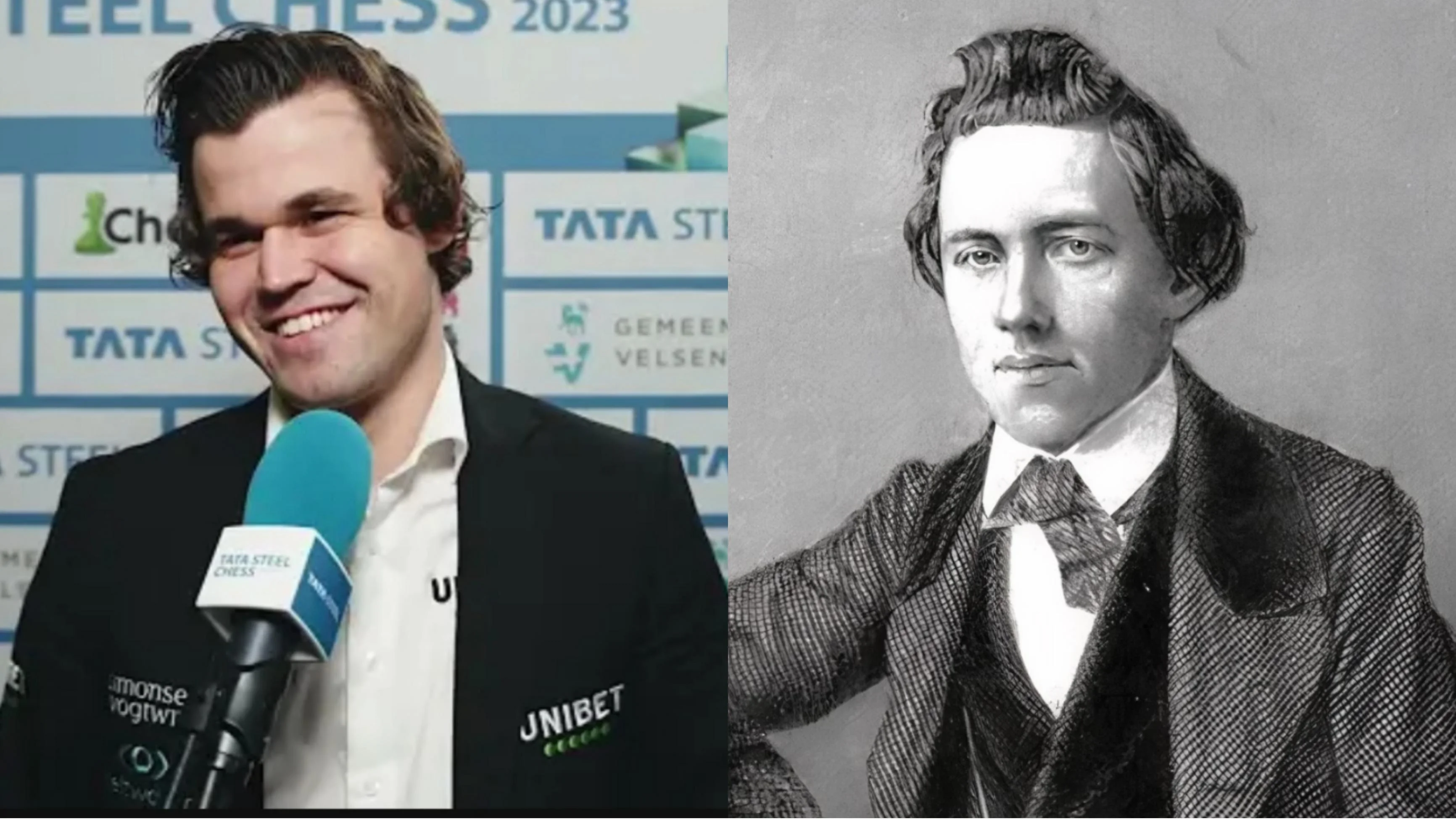 Unfortunately, Morphy's career as a chess player was short-lived. After his victories in Europe, he returned to the United States in 1859, where he gradually faded from the chess scene. Although he did play a few more matches and exhibitions, he never regained the same level of prominence that he had achieved during his time in Europe.
Despite his brief career, Morphy's impact on the world of chess was immense. His incredible talent and mastery of the game inspired countless chess enthusiasts and paved the way for future generations of chess players. His contributions to the game have been recognized by the chess community, and he is widely regarded as one of the greatest chess players of all time.
Paul Morphy legacy will continue to live on for generations to come, and his name will always be remembered as one of the greatest chess grandmasters of all time.