Praggnanandhaa: The Rising Chess Prodigy and Grandmaster
Chess, often regarded as the "Game of Kings," has seen its fair share of prodigies who have left their indelible mark on the chess world. Rameshbabu Praggnanandhaa, often simply referred to as Pragg, is one such young prodigy whose meteoric rise in the world of chess has captivated the hearts and minds of chess enthusiasts around the globe.
Born on August 10, 2005, in Chennai, India, Pragg has shattered records and defied expectations to become one of the youngest chess grandmasters in history. This article delves into the life and achievements of this chess wunderkind.
Early Life and Introduction to Chess
Rameshbabu Praggnanandhaa's journey into the world of chess began at a remarkably young age. His father, Rameshbabu, who was a chess enthusiast himself, introduced him to the game when Pragg was just three years old.
It quickly became apparent that Pragg possessed a unique talent and an insatiable appetite for the game. Under the guidance of his father and with the support of his family, Pragg embarked on a journey that would soon lead him to chess stardom.
Progression Through the Ranks
Pragg's early years in chess were marked by rapid progress and remarkable achievements. At the age of ten, he became the youngest International Master (IM) in the history of the game, a testament to his exceptional skills and dedication. His performances in various youth championships were nothing short of astounding, showcasing a level of maturity and tactical acumen far beyond his years.
In 2016, Pragg clinched the gold medal at the World Youth Chess Championship in the U-12 category, making a statement to the chess world that a new prodigy had arrived. His victory at this prestigious event was a glimpse of the greatness that was yet to come.
Breaking Records on the Path to Grandmaster
One of the defining moments in Pragg's chess career came in 2018 when, at the age of 12 years and 10 months, he achieved the grandmaster title. This remarkable feat made him the second-youngest grandmaster in history, behind only Sergey Karjakin. Pragg's achievement not only solidified his status as a chess prodigy but also garnered global attention, leading to comparisons with legends like Bobby Fischer and Garry Kasparov.
Pragg's journey to the grandmaster title was characterized by an extraordinary work ethic and a relentless pursuit of excellence. His ability to absorb complex chess concepts, his deep understanding of endgames, and his fearless approach to facing higher-rated opponents were the hallmarks of his rise to grandmaster status.
Notable Achievements and Tournament Success
Pragg's list of achievements on the chessboard continued to grow as he competed in elite tournaments around the world. He made a mark at the Tata Steel Chess Tournament in Wijk aan Zee, Netherlands, where he played against some of the world's best chess players, holding his own and demonstrating his immense potential.
In 2019, Pragg secured his first norm for the title of International Grandmaster (GM) at the Isle of Man International Chess Tournament, putting him on track to become one of the youngest GMs in history.
In addition to his success in classical chess, Pragg also excelled in rapid and blitz formats. His dynamic and aggressive style of play made him a force to be reckoned with in these fast-paced formats, earning him accolades and fans from all corners of the chess world.
The Fide world cup journey 2023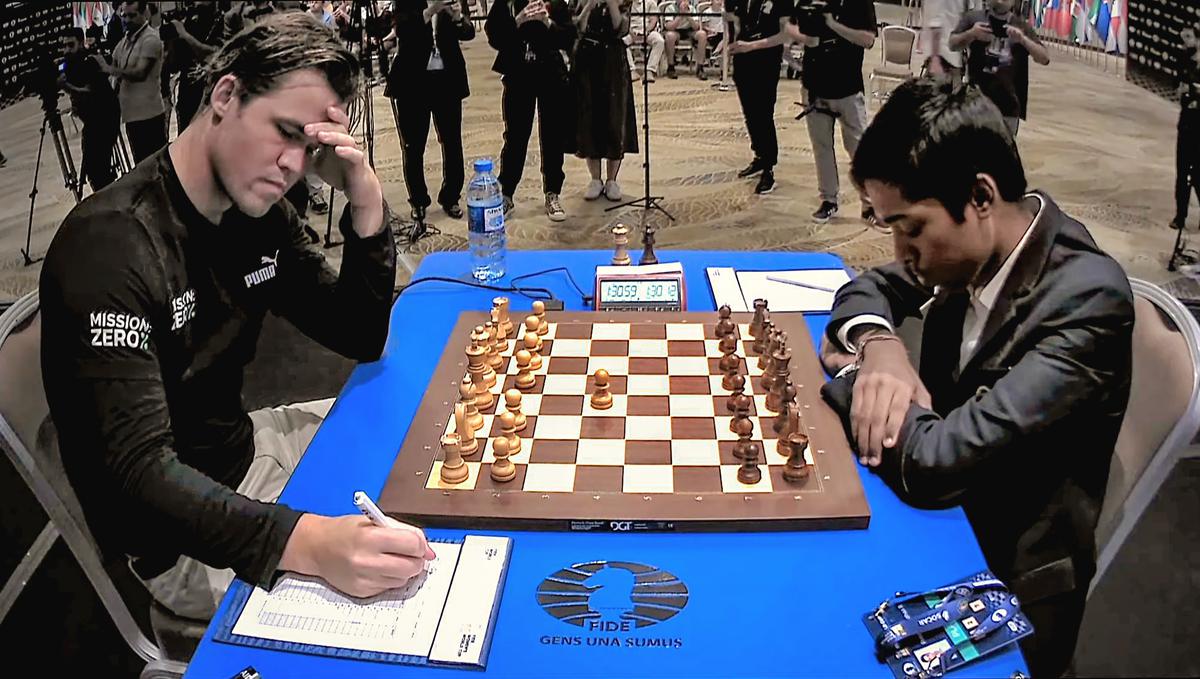 Praggnanandhaa's remarkable journey in the FIDE World Cup 2023 began with a first-round bye in Baku. The Indian Grandmaster commenced his impressive campaign by defeating French Grandmaster Maxime Lagarde with a score of 1.5-0.5 in the second round. In the subsequent phase, he continued his winning streak by triumphing over Czech GM David Navara with the same scoreline.
Praggnanandhaa's remarkable run led him to a face-off with the World No.2, Nakamura, in the fourth round, where he secured a convincing 3-1 victory, paving his way to the fifth round.
The fifth round saw Praggnanandhaa outperform Hungarian Ferenc Berkes with a score of 1.5-0.5. In a thrilling quarter-final match, the Indian prodigy staged a come-from-behind victory against Arjun Erigaisi. His exceptional performance culminated in a historic achievement, as he became the youngest player ever to reach the final of the World Cup with an electrifying 3.5-2.5 win over Caruana in the semi-final.
Praggnanandhaa qualified for the final match against the world highest rated player GM Magnus Carlsen which many consider him to be the best of all times!
Reaching the finals against Carlsen
In the most prestigious event in the world of chess, India's Rameshbabu Praggnanandhaa rewrote history by engaging in a thrilling final match against Magnus Carlsen at the recently concluded FIDE World Cup 2023.
Praggnanandhaa, who had previously defeated top-ranked players like Fabiano Caruana and Hikaru Nakamura, ultimately secured the runner-up position in this renowned tournament. This remarkable achievement marked a glorious milestone for Indian chess. However, Praggnanandhaa was narrowly defeated by Carlsen with a score of 1.5-0.5 in the tie-breaker, cementing his second-place finish in the World Cup final.
Notably, this Indian Grandmaster has now earned a place in the Candidates 2024 tournament, following his outstanding performance in the FIDE World Cup held in Baku. Praggnanandhaa becomes only the second Indian player, following in the footsteps of the legendary Viswanathan Anand, to secure a spot in the Candidates tournament. Additionally, he ranks as the third youngest player ever, alongside the likes of the legendary Bobby Fischer and Carlsen himself, to qualify for this prestigious event. As a reward for his second-place finish in the FIDE World Cup 2023, Praggnanandhaa has earned a substantial prize of USD 80,000.
Conclusion
Rameshbabu Praggnanandhaa's ascent in the world of chess is a story of remarkable talent, hard work, and a love for the game. From his early days as a chess prodigy to his historic achievement of becoming one of the youngest grandmasters in history, Pragg's journey is an inspiration to chess enthusiasts and aspiring players worldwide.
As Praggnanandhaa continues to make strides in the world of chess, one can only anticipate that his name will become synonymous with the legends of the game, leaving an indelible mark on the rich history of chess.