In this post I want to share with you my favorite picks for playing and practicing chess, as far as books are concerned. Studying chess with a real paper-book and a real chessboard (not on the computer screen), is a very pleasing activity.
So, what Recommended Books am I going to describe? Zurich 1953 (D. Bronstein), GM Preparation – Calculation (J. Aagard), Beating the Open Games (M. Marin), Training for the Tournament Player (M. Dvoretsky), Endgame Strategy (M. Shereshevsky), My Great Predecessors (G. Kasparov), Winning with the Spanish (A. Karpov), Pump up your rating (A. Smith).
Quite clearly, you can do your own research and find tons of great books that are missing in my recommendations. That's OK though. I made this list based on my personal favorites, and based on what I think could be a great ensemble for a player to have in her (his) library.
Important Notice: SoftwareChess.com is NOT affiliated with any program. Therefore, all links that you will see are simple hyperlinks, without any affiliation code. In other words, I do NOT make a cent, no matter if you click or not, purchase or not.
Zurich 1953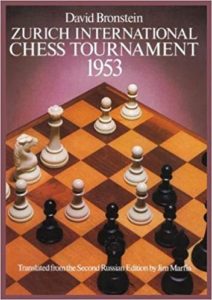 Zurich 1953 is a famous book by GM and World Champion Challenger David Bronstein. In fact, Zurich 1953 was the Candidate Tournament in that year, won by Vasily Smyslov. The Candidate Tournament is historically the tournament that decides who will challenge the World Champion. And in fact, in 1954 Smyslov challenged Botvinnik for the crown (but did not manage to win it).
During the Candidates Tournament in 1953, 210 hotly contested games were played by the greatest players in the world. Bronstein analyzed all of them in real depth and published his analysis in this book. So, imagine more than 200 games played by the top players in the World, analyzed by one of them! This book is an incredible source of learning for all chess players.
Studying good games is one of the primary way to improve one's own strategic understanding. You need to watch how GM handle certain positions, and what type of plans they put into practice, so that you can learn patterns as well as their thinking, and use those in your games. I would suggest this book if you are at a mid/advanced level. Candidates games are hard fought and therefore not very easy to understand at times, but Bronstein did an amazing job in his explanation.
For the records, Fabiano Caruana has recently said that Zurich 1953 is is favorite chess book.
GM Preparation - Calculation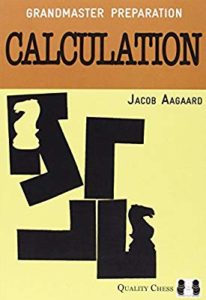 Grandmaster Preparation – Calculation is a book by Jacob Aagard. He is without doubts one of the best chess author of these days, and I would suggest you to take a look at the list of his books.
Grandmaster Preparation is actually a series of books, all by Aagard, and all focused on training the way GMs do. Let me be clear: it's a great series. It's just awesome. I have read all of them, and I know I should go back to them, book by book, and make a more intense and deeper study.
Among the series' book, I recommend the "Calculation". If you get it, you might be surprised at the beginning. The book does not contain many words! Just diagrams, exercises and solutions. The point is that Aagard is a believer of the "active learning", and so am I. In other words, if you want to improve you have to sweat, and exercise is the way to do so.
In the book Aagard proposes a great collection of tactical training positions, all of them from real GM practice, with detailed solutions and explanations. They are divided into categories, per subject, which somehow helps the mental process. As he says, Improvement starts at the end of your comfort zone. Good luck!
Beating the Open Games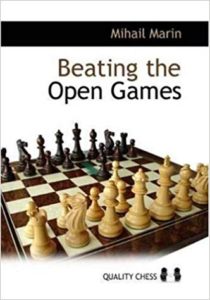 Mihail Marin is the best chess author when it comes down to opening repertoire, in my humble opinion. Beating the Open Games is a masterpiece, period. It's so well written that even though was published in 2008, ten years later chess engines can only agree with Marin's analysis.
If you play 1.e4 as White, or if you play 1.e4, e5 as Black, then this book must be in your library. Not only it must be there, but you should really study it in depth. I have studied it in depth and build a database with almost all variations and I noticed that my results in the open games have improved substantially. For the records, I plan to edit that database and share it in this blog.
Training for the Tournament Player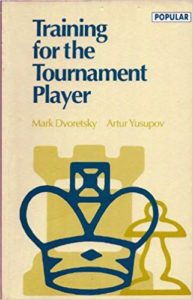 If you don't know who Mark Dvoretsky was, then close this page and go on Wikipedia! It's no overstatement saying that he is the most famous chess trainer and chess author of all times. He has written plenty of amazing books, and believe me, I would have loved to add all of them to this list of recommended books. His Analytical Manual, and his Endgame Manual are absolute masterpiece of the chess literature and must-reads for everyone.
Still, if I have to pick up just one and suggest it to you, then my choice would be Training for the Tournament Player. This is a somehow lighter book then the other two, and contains a large number of precious advises for players. It's a guide on what-to-do for your own preparations, and mentions openings as well.
Endgame Strategy
Endgame Strategy is a somewhat less known book, for mysterious reasons, since it's a masterpiece in its genre. Shereshevsky, the author, walks you through a lot of examples to illustrate the key concept of the endgames in chess. I like that it alternates GMs games with games by less known players, to highlight the difference in thinking and vision.
Endgame is probably the toughest part of chess to train. It requires at the same time memory, imagination and deep calculations. There are very good books out there, especially by Dvoretsky and Mueller, but I want to recommend to you Shereshevsky's because in my opinion is more strategic and adapts better to players of all levels.
My Great Predecessors
My Great Predecessors is a series of book authored by former World Champions Garry Kasparov, also one of the most famous chess players in the history, for a number of reasons!
Kasparov analyzes chess games ranging from the 19th century (or even earlier) till our days. Analysis are incredibly deep and, as I already told you, studying good games along with good analysis is a very beneficial way of training.
The entire volume set is made of 5 books, and of course I would suggest you to get all of them. However, studying it will take quite some time (for each book), therefore I would say start buying the first one, and then continue with the others when you've done. Unless, of course, you find an exceptional deal for the entire set (in that case please let me know!).
Winning with the Spanish
Winning with the Spanish, by former World Champion Anatoly Karpov, was one of my first chess books. And I still find it great today. Karpov made the Spanish opening extremely successful in his hands, both with White and with Black (also thanks to his second Zaitsev).
The books contains games mostly from Karpov's practice, and a few of them from his matches against Kasparov, as Black in the crazy Zaitsev variation of the Closed Spanish opening. Others are from his matches with Korchnoi, as White in the Open Spanish opening.
If you study the book deep enough you will eventually get a very good sense of how to play the Spanish opening. My best game ever has been against a 2400 player in the Zaitsev opening (I was Black).
Pump up your rating
It's a bit unfortunate that this book comes with this silly title. Nonetheless, Pump Up Your Rating is a very good book for the practical aspects of a chess game. Contains a number of suggestions on how to prepare your own training at home (for those who have time for it!), and I particularly enjoyed the section about analyzing one's own game.
It's a easy read in this sense. It contains exercises too, of course, but in general you can read the book quite quickly. However, putting into practice the advises contained in the book will take much more time and effort. I do think that they are valuable though, and this is why I recommend this book!
Let me know in the comments what do you think about these recommendations, or what are your favorite picks.
---
As always, have fun!!