Serjey Karjakin: The Shunned Star
Sergey Karjakin, the 32-year-old Russian Chess star, is shunned and no longer welcome in most of the top chess events across the globe.
He has been doing things repeatedly and intentionally that the chess world has frowned upon. The situation was exacerbated when he showed stubbornly intent on sticking to his statements.
His recent controversial comments on social media supporting Russian President Vladimir Putin and the Russian invasion of Ukraine have infuriated the chess world.
In addition, the grandmaster is facing an ethics case brought by FIDE, which could result in his suspension from tournament play. And now, The Russian 32-year-old is no longer allowed at events in Stavanger and London.
FIDE announced Karjakin to be banned from all their chess competitions on March 21. The 6-month lengthy ban will be in effect till Wednesday, September 21.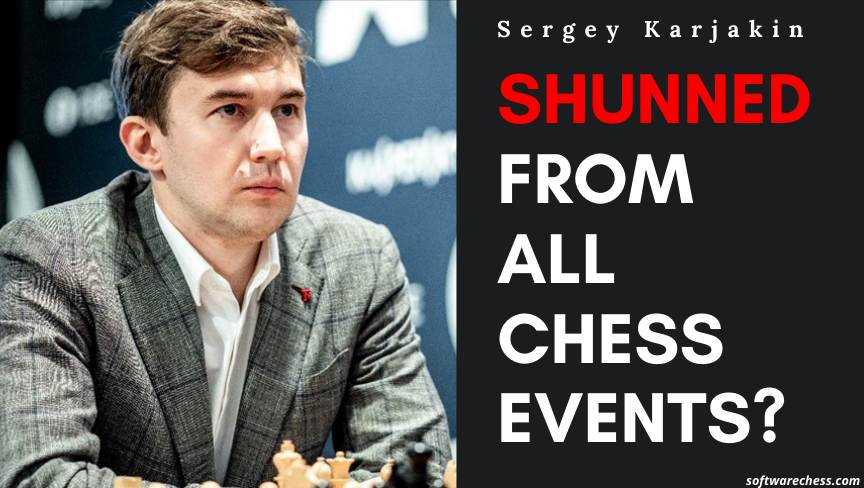 The former World Championship challenger, who is now ranked 18 globally, is undergoing an ethics case after being accused of bringing the game into disrepute through his social media outbursts since Russia's invasion of Ukraine.
The statements prompted FIDE to file an ethics complaint, noting that they disapprove of "Any public statement from any member of the chess community that advocates unjustified military action."
Karjakin will receive no invitations to elite events worldwide for the explicit time. One of them is Norway Chess, which Karjakin won in 2013 and 2014 and has competed five times, including in 2021.
In an interview, chief organizer Kjell Madland told that the Russian is no longer welcome in Stavanger.
He quoted, "Sergey Karjakin chose to support a nation and a president that is responsible for cruel war acts against another nation and innocent people.
We cannot be associated with people who show support for cruelty like that. That makes it completely unlikely that we will want to invite him to Norway Chess in the future."
Madland added, "The fact that he chose to show his support for Putin is completely incomprehensible and very sad. Karjakin has kids himself, and he should be able to understand how horribly this affects children and innocent people."
Sergey Karjakin's most recent tweet shows him in Dubai with boxing gloves, and the comment he added with that exacerbated the derision to a vast extent, "Celebrating the first day of spring. A Russian Spring."
After such a stunt from Sergey, some suggested he come to Ukraine, where former World Heavyweight Boxing Champion Vitali Klitschko is Major of Kyiv.
Grandmaster Rauf Mamedov couldn't help himself from responding,
"Sergey, We've been acquainted for 24 years, and we've always had a normal relationship. But now you have, unfortunately, turned into a clown, and you're supporting the death of your own brother Slavs.
You're writing offensive posts at the same time as our colleagues are spending yet another day in bomb shelters. Many chess players, my colleagues, have been left without a home. I pity you now."
After that, Norway Chess came up with the following statement purporting a decision not to invite any Russian players for the 2022 edition:
"In regard to the horrific situation that is taking place in Ukraine by the Russian government, Norway Chess has decided to support the sanctions the world community has made against Russia.
This means that we cannot have participation from Russia in Norway Chess for the 10th edition of Norway Chess, which will take place from May 30 to June 10, 2022. Millions of Russians do not want war, and we know this situation has major consequences also for the Russian people. We stand with the people in Ukraine.
The player field will be announced later this month."
According to Norway's TV 2, Alexander Grischuk, who made a statement against the war while competing in the FIDE Grand Prix in Belgrade, was originally scheduled to play.
Karjakin is not welcome, according to Malcolm Pein, the organizer of the London Chess Classic competitions, where Karjakin competed in 2017. When asked if an invitation is likely, Pein says:
"In percentage terms, I would put the chances of him being invited to a tournament I organize in London as somewhere between zero and minus 1." Pein previously made his thoughts about Karjakin's comments clear on Twitter: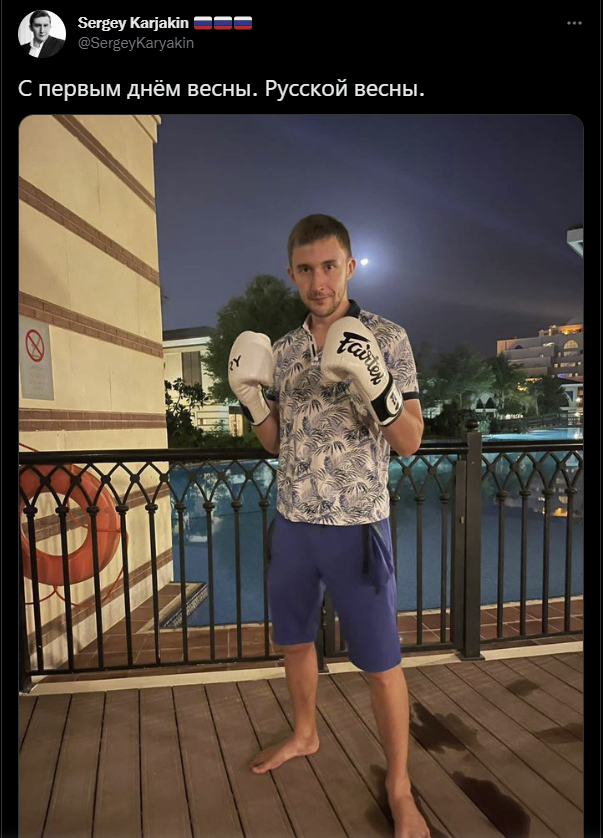 Jeroen van den Berg, the head organizer of the Tata Steel Chess tournament in Wijk aan Zee, where Karjakin has competed ten times since 2006, declined to comment on the matter. A request for comment from the Grand Chess Tour and the Saint Louis Chess Club was not returned.
Sergey Karjakin qualified for his fourth Candidates Tournament with a strong showing at the 2021 FIDE World Cup, but his participation in the event, which will be held in Madrid from June 16 to July 7, could be in jeopardy.
FIDE's Council has filed a complaint against Sergey Shipov and Sergey Karjakin under the title "Public statements causing alleged harm to FIDE, its federations, and the game of chess," says Francois Styrdom, Chairman of FIDE's Ethics & Disciplinary Commission. The three-person panel will decide the case.
"It is expected that the matter will take approximately three weeks to reach a final decision. The first step is to allow each of GM Karjakin & GM Shipov to answer the complaints against them in writing. If found guilty, GM Karjakin & GM Shipov can be sanctioned in terms of any of the available punishments in art 3 of the FIDE Code of Ethics, according to the panel's decision."
The committee has the authority to impose the following sanctions, according to the rules:


Warning
Reprimand
Forfeiture of awards: a fine of up to 25,000 US dollars may be imposed
Up to 15 years ban from participating in chess competitions or any chess-related activity as a player, arbiter, organizer, or representative of a chess federation
Temporary exclusion from membership or office
FIDE also announced that the World Team Chess Championship, scheduled for Jerusalem in April, is postponed till November.
The Polish Chess Federation had already threatened that they were likely not to play if Russia took part.
The International Olympic Committee (IOC) has also recommended that all Russian and Belarussian athletes be suspended. Although it is unclear whether FIDE will follow suit, Russian players competing in the FIDE Grand Prix in Belgrade are now competing under a neutral flag due to the short notice.
However, most people think the shunning of Sergey is completely on himself. On that note, Sergey fans across the world are wondering whether Sergey will plea an appeal to reverse the shunning considering the situation. Albeit Sergey is showing no yield, time is the only answer here!