Chess is a game that has fascinated countless people for centuries, requiring strategic thinking, analytical skills, and a profound understanding of the game's complexities.
One of the rising stars in the world of chess is Jan-Krzysztof Duda, a grandmaster from Poland. Duda's versatility and tactical acumen are defining features of his playing style. He has won numerous prestigious titles, including the World Junior Chess Championship in 2015 and the Polish Chess Championship in 2018.
Duda consistently performs well in top-level tournaments, earning him a career-high FIDE rating peaking at 2767 in September 2021, placing him among the top 10 players in the world.
Despite his meteoric rise, Duda remains humble off the chessboard, expressing admiration for the game's history and traditions. Experts believe that Duda has the potential to compete for the title of World Chess Champion, making him an inspiration to chess players worldwide.
Duda chess style :
Duda is known, not only for his tactical and agressive chess, but also he is known for the ability to handle severe pressure very calmly. His ability to defend impossible positions and turning a seemingly losing position to a full point is outstanding.
We would like to show one example to one of these games where he had to withstand being under fire for many moves calmly, putting his oppoenent in an embarrsing situation and winning the game in a stonecold style!
In this game, his opponent was nothing less than the World highest rated player of all time the legendary grandmaster Magnus Carlsen. This game was played in 2020 when carlsen had more than a 100 game without a single loss!
Duda was able to break Carlsen streak playing an unbelieveable defense. Let's check it out here »
Another game that shows how powerful Duda is, is his game vs the russian chess grandmaster Daniil Dubov. Daniil was Carlsen second for the world championship in 2021. He helped him defeat GM Ian Nepomniachi and is considered the best player in the world to play the Catalan for white.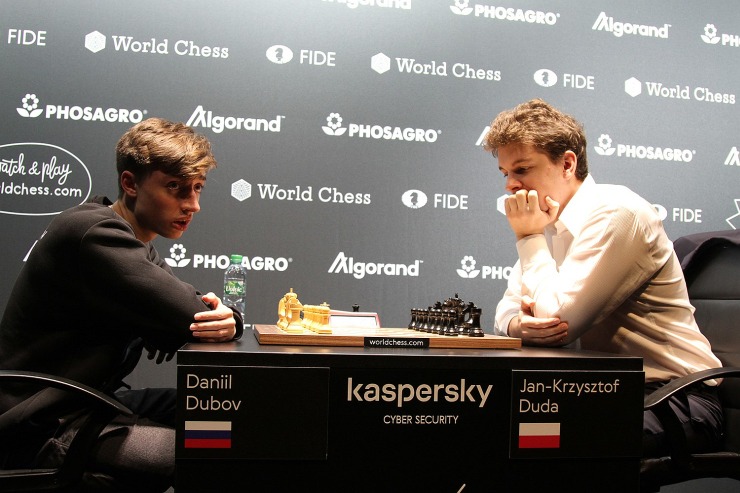 in this game Duda lunched an insane attack involving a piece sacrfice. Dubov couldn't withstand the pressure and quickly collapsed with a naked king on the edge of the board as shown here »
Conclusion
In conclusion, Jan-Krzysztof Duda's emergence as a prominent chess grandmaster has injected a fresh wave of excitement into the world of chess. His exceptional skills, versatility, and competitive spirit have set him apart as one of the game's rising stars.
With his continued growth and development, there is no doubt that Duda has the potential to achieve greatness and etch his name among the legends of the game. Chess enthusiasts and fans around the world eagerly await his future endeavors and the impact he will make on the chess