Vladimir Kramnik is a Russian chess Grandmaster who is widely regarded as one of the greatest chess players of all time. Kramnik's chess career spans more than three decades, during which he has achieved numerous accomplishments and set several records.
In this article, we will explore the life and career of Vladimir Kramnik, his playing style, his notable achievements, and his legacy.
Early Life and Career:
Vladimir Kramnik was born on June 25, 1975, in Tuapse, Russia. He began playing chess at the age of six, and by the time he was ten years old, he had won the Under-12 Russian Championship. Kramnik's rise to prominence was rapid, and he became a Grandmaster at the age of 16, making him one of the youngest Grandmasters in chess history.
Kramnik's early years were marked by a string of impressive performances. In 1992, he won the World Junior Chess Championship, which was a clear indication of his potential as a future world champion. The following year, he became the youngest-ever Russian Champion, a title he would go on to win five times.
Playing Style:
Kramnik's playing style is often described as solid and positional. He is known for his deep understanding of chess strategy and his ability to outmaneuver his opponents in long, drawn-out games. Kramnik is also known for his defensive skills, and he has a knack for turning unfavorable positions into draws or even wins.
One of Kramnik's most famous games was played against Garry Kasparov in the 2000 World Chess Championship. In that game, Kramnik played the Berlin Defense, a solid opening that had been considered drawish for many years. However, Kramnik was able to outmaneuver Kasparov in a complex endgame, which resulted in a victory for Kramnik. This game is considered one of the greatest upsets in chess history and is often cited as an example of Kramnik's exceptional strategic skills.
Notable Achievements:
Kramnik has achieved numerous accomplishments throughout his chess career. In 2000, he defeated Garry Kasparov in a world championship match, which made him the 14th undisputed world champion in chess history. Kramnik held the world championship title until 2007, when he was defeated by Viswanathan Anand in a match. However, Kramnik continued to be a formidable opponent and remained in the top ten world rankings for many years.
Kramnik's other notable achievements include winning the Chess Olympiad with the Russian team in 1992, 2000, and 2002. He also won the FIDE World Cup in 2013, and the Candidates Tournament in 2018, which qualified him for a world championship match against Magnus Carlsen.
Legacy:
Vladimir Kramnik's legacy in chess is undeniable. He is widely regarded as one of the greatest chess players of all time, and his contributions to the game have been immense. Kramnik's deep understanding of chess strategy and his ability to play both aggressively and defensively have inspired many young chess players to study the game more deeply.
Kramnik's influence on chess can also be seen in the way he has inspired a new generation of Russian chess players. Many of the current top Russian players, such as Ian Nepomniachtchi and Dmitry Andreikin, have cited Kramnik as one of their inspirations.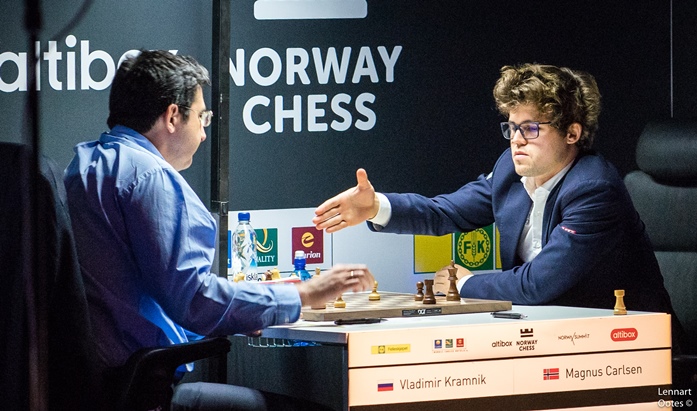 We would like to conclude the article of a game played in 2010 between Magnus Carlsen the highest rated player in the world and Kramnik .The game was so wild , where a young carlsen tried to force a mating attack against Kramnik and he ended up blundering in a very complicated game and losing a piece !
Check it out
Conclusion
In conclusion, Vladimir Kramnik is an iconic figure in the world of chess, whose impressive career and legacy have left an indelible mark on the game. He is considered one of the greatest players of all time, having defeated chess legends like Garry Kasparov and Anatoly Karpov, and having held the World Chess Championship title for over a decade.
Kramnik's contributions to chess go beyond his accomplishments on the board. He is known for his innovative and creative approach to the game, and for his role in popularizing chess in his home country of Russia. Kramnik has inspired countless players and fans around the world, and his impact on the game will be felt for generations to come.